Diversity, inclusivity, and competency are imperative in any business, especially when reaching out to the global marketplace. With access to the world wide web, companies now have the capabilities to expand boundlessly like never before. As the reliability in technology and ease of access surges, it is essential to eliminate barriers like language differences in the customer journey to ensure a business reaches its optimal potential. If the potential leads have communication issues, or if an ineffective service is offered simply because of misunderstanding the user requirements, the impact it leaves on a business will be devastating.
A Common Sense Advisory study shows that 74% of consumers are more likely to purchase again from the same brand if after-sales care was offered in their own language. Since providing customer support in the native language helps businesses achieve customer satisfaction and increased revenue, a huge number of global businesses have started integrating multi-language customer service in call centers as a part of the solution.
In this post, let's see how having a multilingual call center impacts a business and how companies can automate this process with multilingual voice bots for improved customer satisfaction at a 70% less operational cost.
Multi-Language Customer Service & Its Impact on Businesses
Multilingual call centers make it easier for businesses to accommodate their global audience in their preferred language. Not only does this help understand your clients better, but it also enhances customer experience and leads to a better client retention rate. A sense of familiarity and comfort is definitely increased when your customer deals with a language he/she is comfortable speaking. In fact, an Intercom survey shows that 58 percent will be willing to wait longer to access customer support in their local language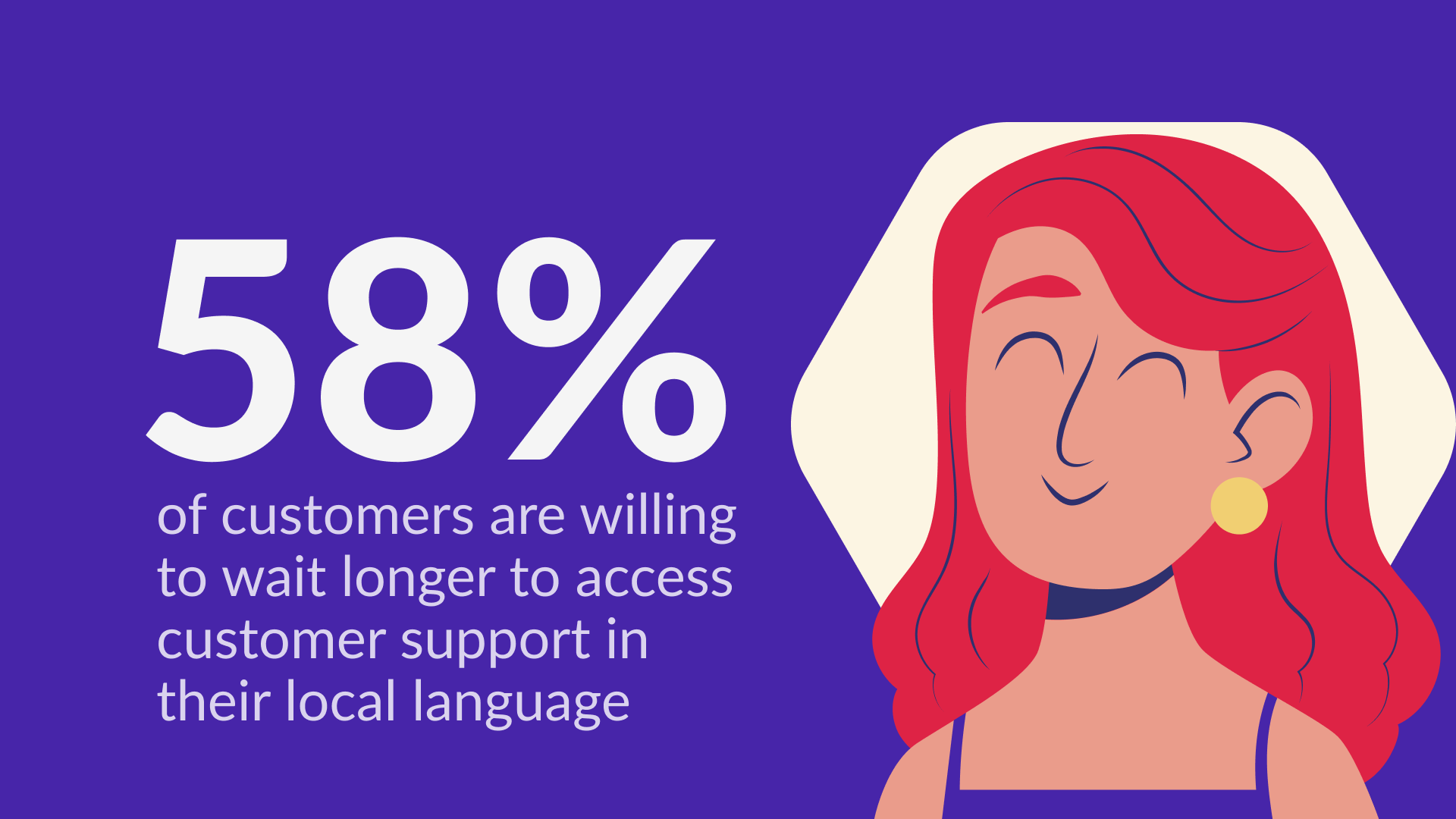 Another point to consider is the efficiency and productivity within the workspace, as better communication means a clearer understanding of the client's requirements and expectations. Incorporating multilingual call centers helps businesses execute their global expansion plans easier because of the targeted audience approach. More extensive coverage in targeted markets means better numbers in lead generation and client retention. In the cut-throat competition, having multilingual services is a great asset, and this is precisely why the need for multilingual services is increasing in popularity each day.
But, hiring people for each and every language just to make your service better than the rest will be a budget-intensive task which many growing companies can't afford. This is where multifaceted and multilingual AI voice bots come in handy. According to a survey by Oracle, 80% of the businesses responded by saying they have already included AI technologies in their businesses or are planning to within 2021.
Multilingual Voice Bots
The internet has made it easier for you to reach out to a global marketplace. Recognizing the need, the revolutionary multilingual bots make it possible for you to overcome the language barrier effectively.
Intelligently designed AI voice bots with smart NLP and NLU engines can process the user interactions in a fraction of a second and provide natural human-like interactions. There are pre-trained voice bots for each stage of a customer journey. From nurturing the leads to providing after-sales service, there are bots to simplify the job for business owners.
Instead of hiring several multilingual staff, training them, and going through all the hassles of chaotic human resourcing, these automated voice bots are a great alternative that can provide a seamless customer support experience 24/7 around the clock.
The future of multilingual call centers with multilingual voice bots is evolving on a daily basis and seems to be going only uphill from here. As more businesses adapt to AI technologies, the use of voice bots is increasingly well-received. With the global reach that the business paradigm has shifted to, the need to convincingly and effectively communicate, understand and respond to potential leads is definitely the top priority. And it would be fair to say that AI multilingual voice bots allow a business to embrace these priorities and initiate an innovative customer experience that those without simply cannot offer.
Frequently Asked Questions
What is a multilingual service?
Multilingual Customer Service is a form of support where companies provide experiences and assist customers in their native language.
Why is multilingual support important?
A multilingual support representative can speak with them fluently and resolve any issue(s) they may have. As a result, your customer will know that your company understands them, takes the time to listen to them, and, most importantly, values their business.
What is a multilingual voice bot?
A multilingual voice bot is capable of supporting and conducting conversations in multiple languages to amplify your reach and scale your localization efforts.
Book a demo to experience how voice bots can automate your customer support service and provide a comfortable customer experience in the user-preferred language.