Sales of voice-activated smart speakers exceeded 150 million units in 2020, showing that voice-assistance-based customer experience solutions are now firmly entrenched in the consumer space. The natural next step is to offer inbound customer service via intelligent conversational AI assistants like voicebots.
Chatbots are already prevalent with 80% of customers reporting positive interactions. Adding a voice bot to the customer service pipeline ensures 24/7 omnichannel availability. 
A Hubspot survey indicates that 40% of customers don't care whether they receive assistance from an AI tool or a live agent, as long as their problem is resolved satisfactorily. Using voicebots in inbound customer service improves CX comparable to non-automated services. 
Voicebots Increase Customer Service Efficiency
69% of respondents in a Cognizant survey preferred conversational bots to get instant responses from a website. Speaking of instant responses, AI voice bots are a better alternative to interactive voice response (IVR) calls. Most customers want to bypass the IVR system to contact human agents. Voicebots can reduce the waiting time, and the frustration.
Unlike human representatives, bots can recall the entire interaction history with a customer and even draw upon similar precedents within seconds. It can, therefore, resolve the problem accordingly or quickly transfer to a trained human agent for more intelligent conversations. 
They should be added to teams of specialists that leverage human abilities and AI insights to deliver superior service. The future of customer service is personalized, timely, and omnipresent and voice AI solutions have a role to play in it. 
Voicebots eliminate customer experience redundancies
Disjointed customer journeys are frowned upon in today's competitive markets. Voice-activated AI tools can provide a seamless experience across channels, allowing customers to pick up the conversation where they left off; such as starting from a chatbot and being transferred to a voice bot. 
Voicebots can even perform tasks like making appointments. They can take over repetitive queries such as FAQs and free up agents to handle more pressing issues requiring complex problem-solving. Gnani has demonstrated a 5X increase in appointments with their customer service appointment AI assistant. 
Positive impact on employee attrition 
Customer service is known to be a challenging space with high attrition rates. Competent professionals exit quickly for greener pastures as the tedium and unpredictable customer behavior diminish morale over time. Contact Centers have high operational costs for answering inbound queries due to these manpower needs. 
Voicebots can reduce these tiresome aspects of repetitive customer interaction and free up human agents to handle more cognitively demanding tasks. Contact Center professionals can be trained to analyze the data generated to further improve the customer experience. Ensuring a dynamic career may reduce CX attrition rates from the current 30-45%.
Improving CLV
About 33% of customers are likely to switch brands after one bad customer service interaction. This is why eight out of ten businesses surveyed by Oracle have or are planning to integrate AI into customer service.
In some industries like banking and insurance, 24/7 customer support is the norm, and using voicebots in customer support can help reduce the costs. The bots don't tire of repetitive queries, providing a consistent and positive customer experience and helping to increase CLV (Customer Lifetime Value).  
The insights derived from the analytics data generated by AI tools can be used to identify cross-selling or upselling opportunities and pass them onto the sales and marketing teams to increase CLV by crafting personalized offers and deals. 
The analytics advantage
CX professionals have to recall interactions with customers accurately and record them with minimal bias. Voice-based conversational AI greatly simplifies this by using NLP and voice recognition. The analytics suites gather conversation-related metrics like sentiment, FAQs, churn propensity, etc. 
The data can be used to segment and personalize the inbound service approaches and predict emerging issues that the bots should be trained to head off.
Use Cases: Putting Conversational AI in Action
The best way to conceptualize how voicebots can play a role in inbound customer service is to consider some real-life use cases where they can be put into action.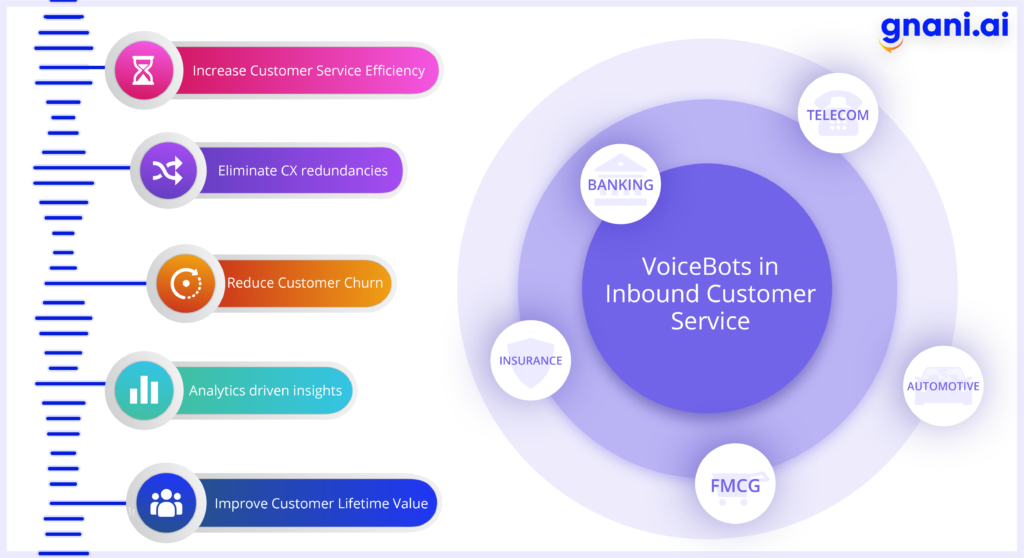 Banking
Imagine that an impatient customer is calling to have their stolen credit card canceled and they are put through the rigmarole of a long-winded IVR message. In the end, they are almost shouting at the live agent. 
A voice bot could have handled this entire interaction in a fraction of the time taken. They can also handle preliminary customer inquiries about banking products. Without an AI assistant to receive the query immediately, the customer might end up changing their mind! 
Automotive Companies
Nurturing customers throughout the long journey as a car buyer requires superior customer support. Increasing the CLV and maintaining a good relationship can get the customer to return and purchase the next vehicle. 
Voice AI tools can automate tedious tasks like simple service queries, booking service appointments, test drives, etc. Gnani's bots also have vernacular language support, a growing necessity as non-English speaking customers are becoming an important segment.
Dealing with Complaints
This is perhaps the most significant area where voicebots are likely to bring about a radical shift. 72% of customers report having to explain the problem to multiple representatives and being unhappy about this. Unfortunately, instances of customers being polite when they are annoyed by performance problems are much less common than irate ones demoralizing the human executives. 35% of customers report having lost tempers when dealing with customer service executives.
Voice-based conversational AI is by design, perfectly equipped for this purpose. Not only can they listen to endless tirades, but they can also provide objective data about customer sentiments.
Our PoV
Salesforce research tells us that 78% of customers will continue to do business with a company even with mistakes if the service is excellent. Implement voicebots in your inbound customer service strategy to ensure that you're one of the businesses these people return to.
We'll conclude with a note about the top benefit of voicebots in inbound customer service – the scalability and cost savings. It's a lot less expensive to get these bots when you have to expand your customer service team. 
Reach out to us to understand the potential of voice bots in inbound customer service automation.